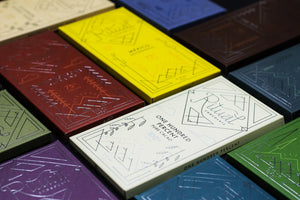 About wholesale
We love partnering with new people and businesses who are interested in carrying high-quality products and supporting the cacao ecosystem through Ritual Chocolate. Here are some reasons as to why you should carry and wholesale direct from Ritual Chocolate:
We work hard to ethically source and partner directly with cacao farmers and co-ops, who also work hard to hire locally and support their local economy. A healthy economy and environment where the cacao is grown helps us to continue to get the highest quality beans while forming a deepening relationship with the farmers who support biodiversity and thoughtful growing practices.
We always strive to make good environmental considerations and improvements in our manufacturing and practice. From compostable pouches to utilizing natural heat within our process, we are mindful of our production and energy use. Our goal is to become zero waste, and we find practical applications while crafting our bean-to-bar chocolate, such as repurposing and composting all of our cacao shells after winnowing—a premium and beneficial byproduct for gardens and the Earth. 
Our products have minimal ingredients. We don't need to disguise the quality of our cacao, and we work carefully in small batches to bring out the delicate flavor notes from each variety.
Selling Ritual Chocolate supports a supply chain that can remain transparent, sustainable, and traceable.
You will provide an array of high-quality, flavorful products that are sure to become your customers' favorites and a new ritual for them to enjoy!
So interested in wholesale? Please complete our form to speak with us about wholesale buying for your business.
Are you an existing wholesale customer?
Log in